FASHION
Published on January 7th, 2012 | by Nir A.
2
Affordable Hot Summer Fashion Clothing Trends
Spring just came by fast as lightning and summer, yes hot summer, is fast approaching. From the cool air to the burning sun, the temperature rises. You might not even notice the changes at first but by the time you realize the heat, your plain pants and t-shirt spring attire just won't do. What could your fashion clothing be? May I suggest a wardrobe change or a closet update?
Yes, you can definitely do a wardrobe change. But hey, that does not mean taking your entire wardrobe and changing it. It also does not mean taking your clothes out and replacing everything else with new ones you recently bought from a very expensive store from that very famous mall people keep telling you about. People who say fashion has a price never heard of fashion as something barbarous, for it produces innovation without reason and imitation without benefit. That quote was from George Santayana, a philosopher. To think, a philosopher said that about fashion would make you think twice about buying new expensive clothes. If there is a way to create a fashion clothing trend with only your old clothes and a few cheap ones from the small stores in the streets, why not try it right? Practicality. If you need a pen to write your homework, why buy a pen that costs twice your allowance for a day when you can buy a pen that costs only a quarter? So in fashion, why buy something you cannot afford when you can put together clothes from your closet and not spend a single dime. You can still be a fashion queen with your simple clothes. After all, fashion is all about innovation and being resourceful. Make use of what you have in the closet.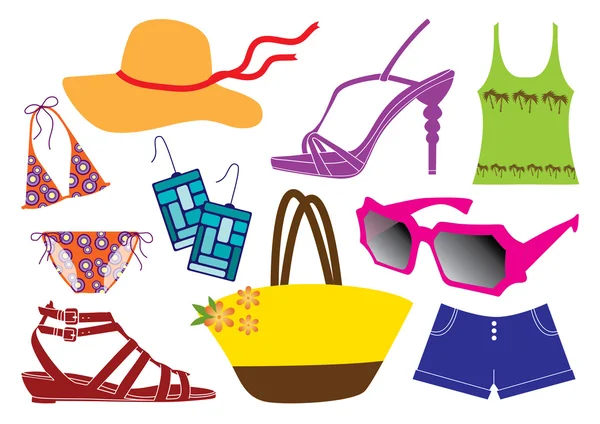 Since it is summer, it is all about the colors. Bright colors easily catch the eyes of the people; it is a good way to get noticed. Search your closet for anything colorful, bright, and pleasing to the eyes; anything that looks fabulous with golden hues and bright blues. Add those colors and make them match skirts, shorts, shirts, and blouses. Pair those with a pair of your shoes, slippers, or flats. Do not forget to accessorize. Put on a belt if your outfit is too plain. Belts may be used for pants that are too loose for you to wear but in our case, it is for fashion. It adds accent to your waist.
If you are not into colorful outfits, why not go for the laces. Pick out a blouse or a frilly skirt. No frilly skirt? Go for short flirty shorts. High waist adds that feminine look on you and flaunts the shape of your body. Accessorize with some black bumblebee sunglasses and some pearls or a retro band.
You can also go for the plain whites. Simple yet chic. Remember those bright colors you looked for in your closet? Grab one of those to accent your plain whites. Go for the menswear-inspired pants and a white blouse with a popping bright yellow. Bring your hair down and wear colored heels. Now that will be an eye catcher.
You can check out more of these amazing styles online. Put together your favorite outfits and you can create wonderful fashion clothing for the summer!